I'm not used to talking about commercial products I've not personally developed on my blog, but I've decided it might be interesting to cover the work of other developers here, from time to time or when something catches my eye.
Today I'd like to tell you about Configurator Reloaded, a Photoshop panel by Thomas Zagler, who revives the idea of Adobe Configurator (the original one).
For those of you who are awfully too young to know, or just not familiar with it, Adobe Configurator (an Adobe Technology Preview – a free product which last update dates 2013) was an easy, visual tool to build Photoshop Panels using a series of predefined, simple graphic elements such as containers, buttons, Photoshop tools, widgets, etc.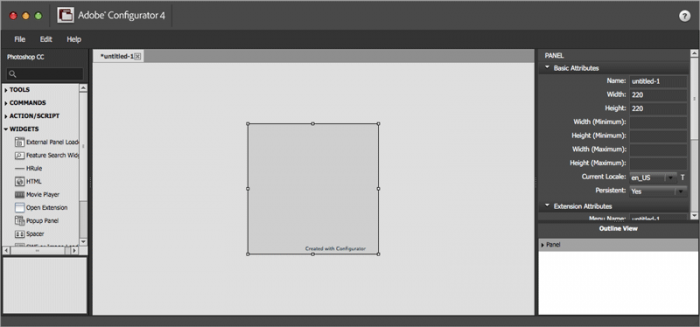 Mostly used to create simple, customized interfaces of existing tools, some developers like Giuliana Abbiati did raise the bar being able to build complex, commercial products with it, like the well-known Channels Power Tool. If you think it's not well-know, please check it out.
While transitioning from Flash to HTML Panels, more or less around the announcement of the Creative Cloud, Adobe discontinued Configurator, which is now pretty much useless as a tool, unless you're stuck with CS6 and/or CC (Photoshop internal versions 13 and 14).
Panels 101
Third party panels are supported in Photoshop from version CS4: they were Flash/Flex things, and lived a happy life until Photoshop CS6 included. Adobe then released Photoshop CC as the only bridge version supporting both Flash and HTML Panels. Flash has been dropped permanently since CC 2014, and we all hope that HTML will have a longer life than his old cousin. Mind you, Flash support varies among CC applications, e.g. InDesign has abandoned Flash much later.
According to information found in someplace in forums, Adobe has no short-term plan (i.e. no plan at all) to port the original Configurator to the present days of HTML. Which brings us to Configurator Reloaded: a third-party, independent project by the German developer Thomas Zagler.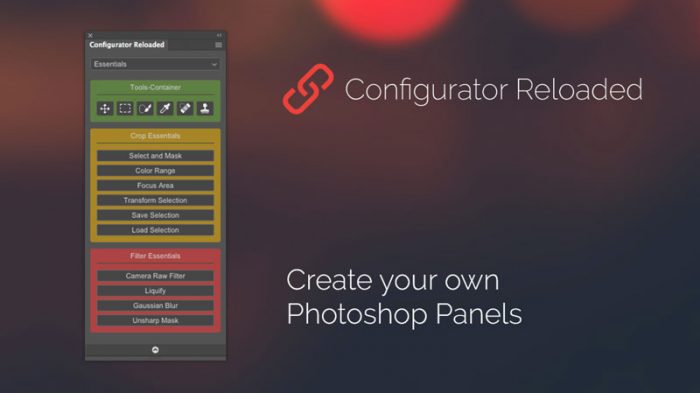 First and foremost, it's not entirely a Configurator clone, but it covers many of the average users' needs. That is to say, creating GUIs (Graphic User Interfaces) that contain Buttons calling existing Actions, Commands, Scripts and Tools:

These elements can be grouped in containers and manually ordered: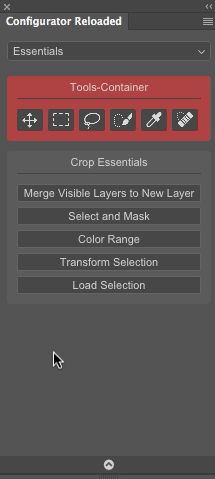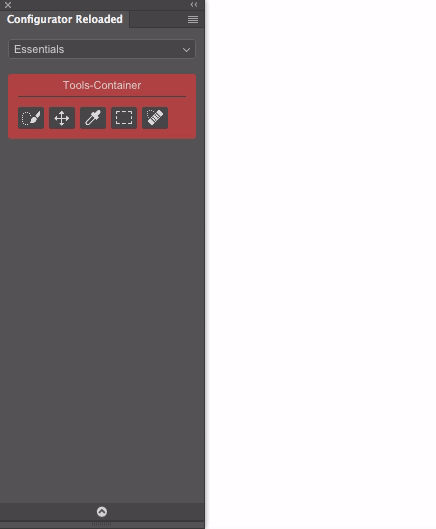 Containers can be colored and labeled, and you have some amount of freedom in the configuration of the overall aspect of your panel. As opposed to Configurator (original), you cannot export, thus distribute, your project as a separate Panel: the customized GUI that you've created is accessed only within your copy of Configurator Reloaded Panel as one of its "Workspaces." Of course, you can have multiple Workspaces, even though you can't display more than one at the same time.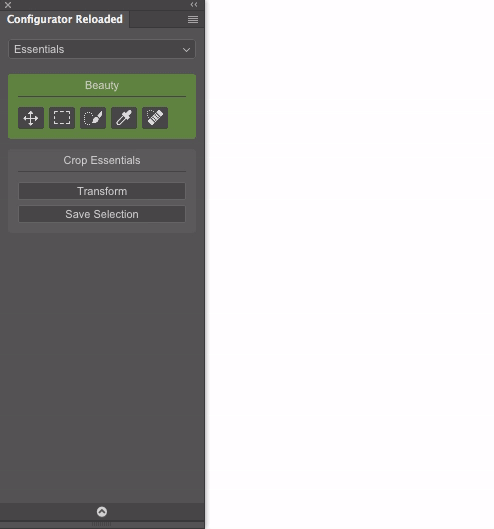 Also, Configurator (original) had "Widgets" such as Search, Movie Player, Popup Panel, etc. as well as "On Panel Initialization" scripts and other useful properties for the exported panel – that Configurator Reloaded simply lacks. Many users that fall in the "Adobe Configurator Orphans" group tend to immediately notice these absences; having often been critic towards Adobe's bugs / missing features in the original product, it's easy to fall into the trap of expecting Configurator Reloaded to fill the gaps, and resuscitating an abandoned product exactly where it's been left.
In my opinion, we should remember that this project is not sponsored by Adobe by any means: instead, we're talking about the initiative of an independent developer, who's worked on a Panel that (I imagine) must be awfully tedious to build. Years ago, I built myself a simpler panel called PS Tools, (grouping only, guess what, Photoshop Tools): I remember it as oh-so-boring to code. Then Adobe's engineers caught up and released the Tools Palette customization as a new feature – I've been a precursor :-)
To sum up, one might find "Configurator Reloaded" a name that winks at the original product; it benefits (from the marketing point of view) from its fame, even if the feature set is only partially comparable. That said, it delivers what it advertises, it's very well built, the learning curve is minimal, and being at version One point O it's fair to expect new features down the line. The price tag is in the mid-high range for Photoshop Panels, $44.90 (regional taxes included – I'm in Italy so the international price may vary) and can be bought here.
Please note: when possible, buy from the original developers to support their work – marketplaces are nice, but they eat out a sometimes considerable amount from the street price. As a huge fan of automation, I believe that whatever carves out even seconds from your daily job pays itself rather quickly, so stop reading this and try the available fully-functional demo version yourself. Your thoughts are welcome in the comments section below.
Disclaimer: this blogpost contains an affiliate link to the Configurator Reloaded panel – you'll support my blog as well if you end up buying it following this link. So many years spent in this business expressing freely my point of view should prevent you from thinking about this post as a gimmick to make extra money – it's just not the case.