You might have noticed that updates on my blog are getting a bit sparse: no worries, I'm up and running as usual. Actually I'm busy as hell – which is quite ironic, since I'd aim for a simple(r) life. But anyway: one year ago I started writing my Photoshop HTML Panels Development course, which I've successfully published in late March 2016.
I'm now back at my desk, working on a very similar project, and targeting no less than… Photoshop Scripting. Yup. First things first, here's the way for you to both receive news on the project status as months go by – the release date is Q2/2017, so don't hold your breath – and an exclusive, substantial discount coupon few days before the course will be publicly available. The mailing list will have ultra-low traffic, don't expect to receive more than two or three emails during these months.
Please subscribe, it's also useful for me to assess what the interest upon this course is like; besides, it'll save you some good money.
Tell me more!
I've been working for something less than a couple of months, so it's really too early to describe a course that is in its early development phase. I can tell you that what has driven me undergoing such a crazy task is the lack of existing resources, describing a linear learning path to get to Scripting enlightenment. Forums are full of helpful people, there are blogposts, articles, references – yet, the available documentation (in the term's broadest sense possible) is scattered to say the least. Which, alas, is very Adobe-ish.
The Scripting community itself is composed of very few, very talented and skilled developers; while the average coder is either self-taught (and that's a tough business – been there myself), or with a patchy knowledge. Web and JS developers entering the Photoshop world may have hard time too – ExtendScript has its own quirks and peculiarities indeed. What about other CC apps? I've always had the impression that the InDesign Scripting community – on average – is better equipped; and please note that I'm not interested in the developers' elite, but the community's at large. It might be that InDesign has a better, cleaner ExtendScript implementation (yes, it's different); I've had a look at their official documentation, and I'm biased to think that, as always, education plays a role.
This course aims to be my own take on providing one, among the many possible others, learning path. It's a pretty darn minefield, though. The topic's so vast that it's impossible for me to cover it all – so most of my sweating goes into finding the right way, to cover the right topics, in the right order (being "right" what makes sense to me). The course target is impossibly crazy both newcomers and  experienced developers. I've started softly, emphasizing not only the language, but the programmer's mindset too.
And yes, I will devote an entire fat chapter on ActionManager, aka Scripting Voodoo. I'm eager to get there, but it'll take time :) I can't provide any sample content yet, except few screenshots: compared to the HTML Panels course, this one looks better to my eyes – I've refined my style, also thanks to customers' feedback.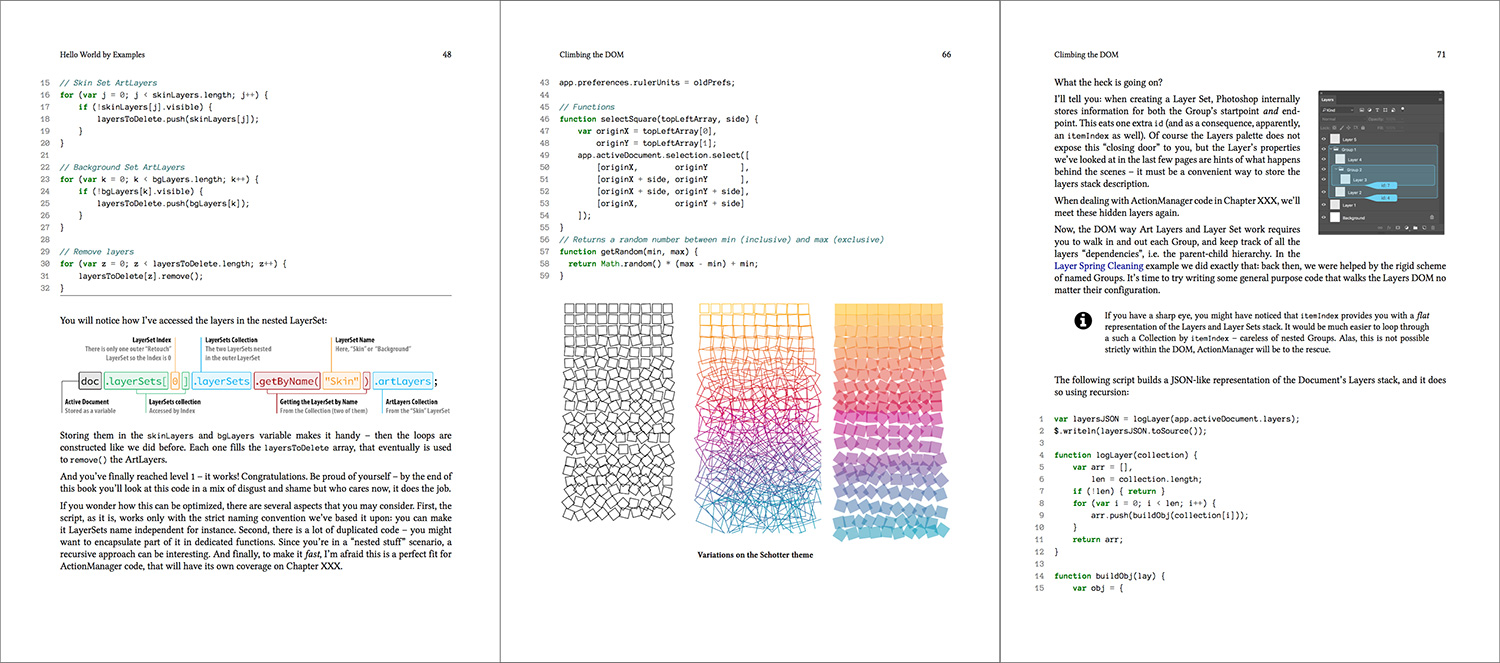 I plan to blog about this course three-four times in total: the early announcement (this very post), when I'll be midway through it, and finally to announce the actual release date, with a final reminder. You won't hear me talking too much about this :) A dedicated website will follow, very much like the HTML Panels course, and bundled videotutorials are planned as well. To save your fingers a little scrolling work, here is the newsletter form again – please subscribe if you're interested. Thank you! 🙏🏻