</p>
</p>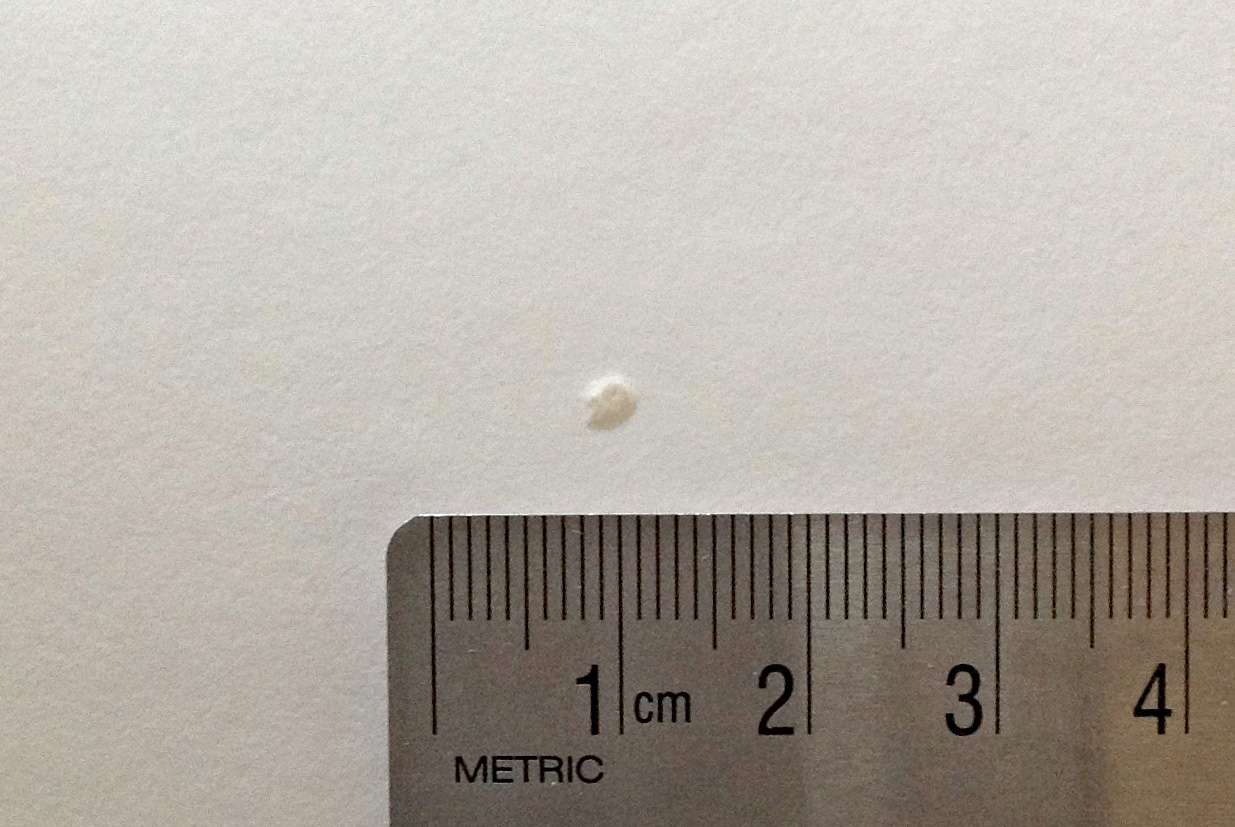 This is what you get right in the middle of a 64 inches (162 cm) roll of Hahnemuhle Photo Rag Baryta, one of the most Expensive Archival Cotton Rag Papers for Inkjet on the market. Now try to print a 64 x 85 inches (162 x 215 cm) image on it and guess how many square feet of paper you will be recycling in the process. That's why we never buy sheet boxes anymore! </div>
Quality control is gone! What a shame.
And I'm not talking about a single roll – I've been working with a client who bought a 30 rolls strong stock and we've been using more than a half so far. (I've been using Hahnemuhle for years and things weren't that much different in the past).</p>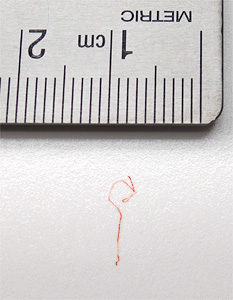 Mind you, if such an expensive (and large sized) paper is targeted to high-level users, it should be obvious that the very same high-level users can't afford to leave such surface imperfections in the framed piece of work.
What kind of imperfections? We've got bumps like the one depicted above, caused by solid bits of who-knows-what embedded in the rag paper base – depending on the kind of impurity they look darker or lighter; black dots scattered here and there, a pleasure to work with when you print skies or similar large patches of flat colors; curly red hair like this one on the left, trapped between the paper base and the coating (where do they come from, I can't say); wax-like stains half of a centimeter wide, almost invisible on the virgin paper unless you inspect it under incident light – but resulting in matte blemishes on the printed surface. </div>
What can you do? My personal suggestions:
Avoid Hahnemuhle when possible, buy another paper brand. It will save you a lot of money, time, and energy otherwise spent getting upset.
Cut the imperfections out, enclose the paper box/roll sticker showing the production lot (kind of a serial number that should indicate when they've manufactured the paper) and mail everything to your Hahnemuhle reseller asking for refund. Depending on your country, require a signed return receipt (so that they can't pretend the envelope has been lost – it happened to me).
Let your voice be heard loud: complain online in forums and blogs. This is way more effective than dropping an email to some Hahnemuhle marketing representative. Believe it or not, few years ago when we protested because the fourth consecutive 64 inches roll we opened in a series had a big fingerprint in the very same position and a dark, rubbing stain on one side (first 20 cm of paper) we got an email back where they assured that Hahnemuhle workers always wear white cotton gloves and we should keep calm.
End your existing stock, sigh with relief and buy another brand.
[These are my own personal opinions, springing from +10 years working in the business of large format printing in Italy for fine-art photographers who exhibit in my country and abroad – I'm not related neither to Hahnemuhle nor to any other paper manufacturer except as a final user] </div> </div>