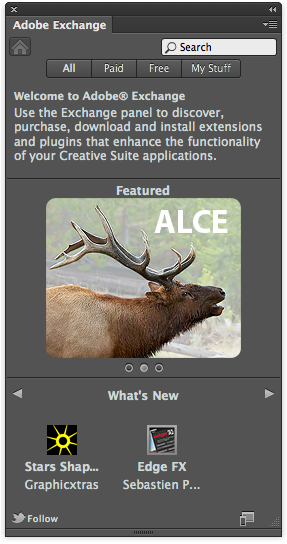 Today Adobe has released in the Adobe Labs a preview of the new Adobe Exchange! Quoting the official website:
The new Adobe® Exchange is a Creative Suite® extension marketplace. It is available as a panel within a variety of CS6 applications. The Adobe Exchange panel provides a new way to search, discover, and install plug-ins, extensions, and other content for Creative Suite products. With this preview of the Adobe Exchange panel, you can browse through items that are available for your CS6 applications; download and install those items; and update acquired items when new versions are available.
Developers of Creative Suite extensions can now reach a great deal of new customers via the Exchange panel: that opens directly within any major CS application (including among others Photoshop, InDesign, Illustrator, Dreamweaver, Fireworks, Premiere, etc) and allows in-app buy. Users can search and navigate through extensions (either free and paid), read reviews, download trials if available. The buy is managed within Exchange – which relies on FastSpring servers for the e-commerce side – and the product is downloaded and installed via Adobe Extension Manager – and you're ready to go!

An Adobe Exchange Producer Portal for developers lets them submit new products and control sells in quite a streamlined fashion – it looks like a modern, much more efficient evolution of the Adobe Marketplace.
That said, I'm proud and excited to inform you that RBG – the Roberto Bigano Group is there, with four extensions coded by the wonderful Giuly Abbiati and me!
ALCE – Advanced Local Contrast Enhancer for Photoshop (featured product for the Adobe Exchange launch!!)</strong> Read more about it in the ALCE website.

</li>

Floating Adjustments – a free panel that let you use big floating windows for any Photoshop Adjustment Layer, see the dedicated blogpost.

CPT – Channel Power Tools, the amazing Swiss knife for channel operations in Photoshop with new features and CS6 support.

False Profiles – a free utility that installs and let you quickly choose among a full set of false ICC profile for color correction.

</ol>

All these four extensions are available through the free panel Adobe Exchange, now live on the Adobe Labs! Go grab it, and if you happen to download and enjoy any of our panels, please write a review for the future generations 🙂

</div>