I'm lucky enough, as a post-producer and consultant, to be paid by photographers who want to use Medium Format (i.e. Digital Backs) to stitch panoramas. And believe me, 20 or 40 shots from a PhaseOne IQ180 (80MP) result in a gorgeous one. They think, as anyone would, that expensive state-of-the-art gear will lead to state-of-the-art photography: alas, I've personally witnessed that this is absolutely not the case. It's rather unbelievable that such heads, backs and lenses fail epically when used improperly – which is fairly easy to do.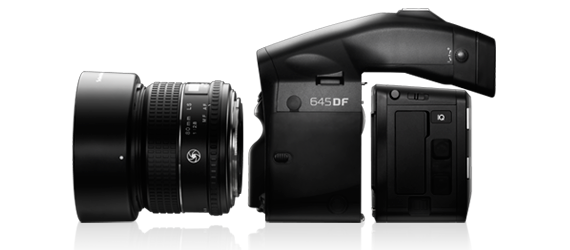 Digital Back / Camera system
PhaseOne bleeding edge is the 645DF camera equipped with an IQ180 digital back, 80MP. At low ISO (35 and 50) the dynamic range is astonishing, while if you go up to 400 ISO you can't tell apart the PhaseOne file and a compact camera jpg but for the megapixel count. True, you didn't shoot negatives hand held with a 8'x10′ technical camera, but for 45K USD you're allowed to expect a little bit more quality from the system. Anyway, keep in mind that 35/50 ISO are spectacular, and 100 ISO is fairly usable as well.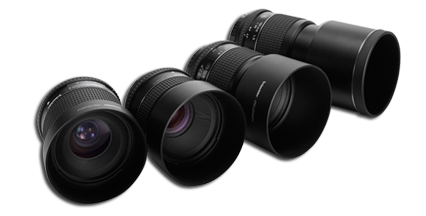 Prime lenses
Now, it happens that PhaseOne bleeding edge lenses are the leaf shutter ones made by Schneider-Kreuznach (LS 55mm f/2.8, LS 80mm f/2.8, LS 110mm f/2.8 and LS 150mm f/3.5) priced in the 3K/5K USD range. If you're into panorama stitching, please note that the PhaseOne 645DF camera doesn't allow mirror lockup and open curtain at the same time, to let you use the lens' leaf shutter only: so that you click, and get no vibrations. Instead, the mirror can lock up as expected, but when you press the release button the second time (or use the camera's timer) both the curtain and the leaf shutter go. According to PhaseOne customer support this is due to the way the camera has been engineered, and you have to expect vibrations in the 1/4 to 1/60 range even on a robust tripod with a solid head, due to the curtain's whiplash. I can confirm: it's impressive! Remember that if you wish to use the IQ180 bst ISO range (35/50) and you're not always at noon near the equator, chances are that these are just the most common shutter speeds with a decent aperture (which, in my experience, should never be higher that f/16 otherwise diffraction starts to degrade image quality – with that lenses, on that digital back at least). Go tell a 50 years old photographer that 1/40 on a tripod gives motion blur in his pictures and he'd commit you to a mental asylum.
Tripod and head
The very same PhaseOne customer support, kindly and quickly (hat off to them, really!) suggested to use the Arca Swiss Cube head (about 1.7K USD) to minimize vibrations. A sturdy piece of a head, nice looking object that may be shipped with an overpriced case for those who are into leather fetish (+240 USD). Luckily, the Arca Cube on a robust Gitzo or Manfrotto tripod (about 1K USD) without the central column (of course… we're serious shooters 🙂 ) gives you a single shot without any vibration even at 1/4. Big deal, being in 2012!
Pano head
Now the time has come for you to approach pano shooting. One of the better choices in my opinion (either for the precision, quality and sturdiness) is the Really Right Stuff PG-02 Pro Omni Pivot Package (900 USD for a true 360° system) which is Arca Swiss compatible – that is, the camera L-plate fits into the head's clamp, the base rail too. You can, technically, fasten the Really Right Stuff horizontal rail to the Arca Cube quick release clamp: alas this will lead to unsuccessful stitching. Why?
If you inspect the Arca Cube clamp you'll notice that it accommodates two different rail sizes. Either the small and the large will fit, alas with the larger one the rotation axis of the head is offset, because the clamp is not symmetric. Which means bye-bye nodal point, and guess what size the Really Right Stuff base rail is? Yep.
As a solution, forget and unscrew the 1.7K USD  Arca Cube (which is good for single shots only) from the column-less Gitzo tripod, mount the Really Right Stuff panning clamp and go ahead. Mind you, you need the  PG-02 Pro Omni Pivot Package and not the Ultimate Pro Omni Pivot Package (100 USD cheaper) because the vertical arm of the former is more robust: this way I've been able to test no vibration at all, even with the evil shutter speeds and such a heavy camera/back/lens system. That's a good news.
Tilt / Shift pano
If you have an architecture photography background, a very good and appealing lens is the Schneider-Kreuznach 120mm f/5.6 Tilt/Shift lens (5K USD). I admit it is a very compact lens, with movements operated by rings and not knobs like other T/S lenses: it isn't the fastest around, the shift is only 12mm (not that much) yet it seems to me a really good lens, delivering very good quality.
You may know that when using a T/S lens for panoramic purposes, it's the back that should move and not the lens – otherwise you'll bump into parallax issues (see here and a couple of workarounds here).
I've thought about a different setup: I would have used an L-plate for the PhaseOne camera, mounting it no matter whether portrait or landscape on the Really Right Stuff horizontal rail. Finding the nodal point, I would be shooting an horizontal panorama (one row of images), shifting the lens upwards and downwards to mimic a second upper row and a third lower row. Possibly quicker than using the full Really Right Stuff 360° setup (involving also the vertical arm and a second rail) and surely more stable: the Schneider-Kreuznach T/S is quite heavy and lens, camera and digital back would surely overtake the weight limit for the pano head.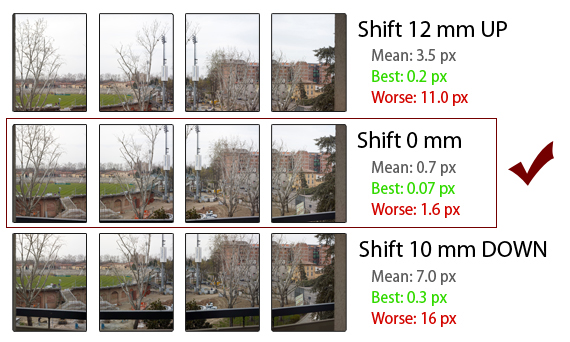 Alas, it does not work either (this post's refrain). I've run two tests, indoor and outdoor: while mean error is quite low for the middle row, shifting the lens seems to cause stitching issues (I've used PTGui Pro for the test) so we must conclude the nodal point changes from row to row. Good idea, bad result. Oh, and by the way the downward shift is limited to 10mm and not 12mm, for the lens hits the Really Right Stuff rail.
That said, if you happen to shoot high resolution, medium format, low ISO rock steady panoramas, well, they're really amazing, wonderful! As a post-producer, I'll be happy to put my hands on them. For every issue covered in this post, keep calm and carry on, it's just money 😉